The 52 Sabbaths is a new weekly resource to help anyone understand and apply the principles of the Sabbath. It is written in an easily accessible style. Each week we explore a different aspect and consider how it can enhance the health and fruitfulness of our daily lives, our relationships, and the communities that we are part of.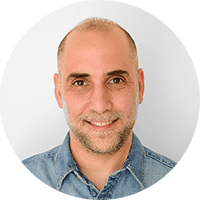 David Hoffbrand is an author, speaker, and singer-songwriter, who grew up in a Jewish family in north London. He has a passion to help the church reconnect with the Jewish framework for understanding the Bible.
His book 'The Jewish Jesus – Reconnecting with the truth about Jesus, Israel, and the church' presents these areas in a way that makes it accessible to anyone, written in simple and engaging everyday language.
He and his wife Denise live in Brighton, England, with their sons Isaac and Levi, and form part of the oversight for CityCoast Church, part of INC (International Network of Churches).
David has a BSc in Psychology and a Masters in Social Work, and previously worked as a social worker alongside various roles within the church. He has also released three albums as a singer-songwriter.
Follow David